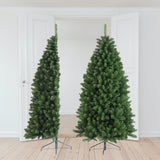 $149.99
Regular price
$214.99
Discover the enchanting beauty and practical design of our Unlit Half Christmas Tree: a Holiday Tree masterpiece ingeniously crafted to decorate your wall or tuck neatly into any corner. Half Christmas trees to hang on the wall are the peak of festive elegance and space efficiency. They're an absolute must-have for both snug residential spaces and chic commercial settings.
Each Unlit Half Christmas Tree comes ready to decorate so you can capture the magical essence of the holiday season your way. Say goodbye to the hassle of stringing lights and welcome the ease of our unlit design. This Unlit Half Christmas Tree features hinged branches so you can easily decorate it how you like.
Crafted with convenience in mind, our half wall Christmas trees have hinged branches that unfold in a harmonious display so you can decorate without any extra hassle. The robust galvanized steel frame and 100% virgin soft PVC needles come together to create a tree so lifelike, that it looks almost like it's been plucked from the outdoors.
Your safety is our priority. Our Unlit Half Christmas Tree is constructed with non-flammable materials, guaranteeing a safe, serene holiday season free from worry. Assembly is a breeze, and disassembly is just as simple. Spend more time enjoying the holiday cheer and less on setup.
Standing at a majestic 7 feet tall and decorated with 602 artfully arranged branch tips, this Half Christmas Tree captures the timeless appeal of Christmas with a contemporary flair. With the assurance of a 5-year manufacturer's warranty, your Christmas tree is protected, ensuring that your tree will continue to spread joy for years to come.
Let the slim Half Christmas Tree be the spotlight of your holiday decor. Its half-tree design is not just a space-saver; it's a conversation starter. This design is a unique twist on tradition that invites you to express your holiday spirit in a new way. Embrace the charm, the convenience, and the beauty of our Unlit Half Christmas Tree this festive season, and make it the focal point of your holiday home.
Return Policy: Within 30 days of receipt or before December 20 (whichever comes first).
Click "Add to Cart" now, and upgrade your Christmas decorating experience this year, and many years to come!
---
30 Days Returns or December 20th (whichever comes first)
Free shipping on orders over $ 50
Half Christmas Tree
$149.99
Regular price
$214.99