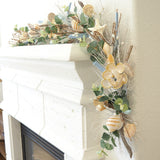 Handcrafted 5ft Coastal Shell Garland for Captivating Holiday Celebrations and Seaside Enchantment
$84.99
Regular price
$139.99
Step into a world of seaside enchantment with our Handcrafted 5ft Coastal Shell Garland, a mesmerizing artwork that captures the essence of the coast. Meticulously handcrafted with exquisite Capiz Shells, driftwood, natural abaca rope, and faux foliage, this stunning garland exudes coastal charm and elegance. As you drape this captivating piece across your mantel, doorway, or staircase, you'll feel a sense of wonder and joy, as if you've been transported to a magical beachside celebration.
Imagine the soft glow of twinkling lights reflecting off the glistening Capiz Shells, the gentle swaying of driftwood, and the soothing touch of natural abaca rope. As you adorn your home with this breathtaking garland, you'll be instantly immersed in the ambiance of a coastal holiday haven, where the spirit of the sea and the magic of the season intertwine.
The Coastal Shell Garland is a celebration of nature's beauty, expertly handcrafted to perfection. Each Capiz Shell, driftwood, and faux foliage finds its place, creating a harmonious arrangement that highlights the authenticity of coastal living and the allure of the ocean.
Run your fingers along the delicate shells and driftwood and feel the intricate textures that evoke the splendor of the sea. With every touch, you'll feel a connection to the coast, as if you're embracing the serenity and wonder of a beachside escape.
Hang this coastal masterpiece across your mantel, around your doorway, or on your staircase, and watch as it transforms your home into a captivating holiday retreat. The combination of natural elements infuses your living space with coastal charm, evoking memories of sun-kissed days and the joy of celebrating amidst the beauty of the beach.
Imagine the delight and awe on the faces of your loved ones as they enter your home and are greeted by this breathtaking garland. It becomes more than just a festive decoration; it becomes a symbol of cherished moments spent in the company of family and friends, where love and joy fill the air.
Embrace the allure of coastal living, embrace the seaside enchantment – bring home your Handcrafted 5ft Coastal Shell Garland today and immerse yourself in the captivating beauty of the sea, all from the comfort of your own home. Elevate your decor and let the coastal charm transform your living space into an oasis of holiday joy and seaside wonder, filling your heart with merriment and rejuvenation day after day. Let the beauty of the ocean and the spirit of holiday celebrations captivate your soul, as you embrace the serenity and magic of the coast, adorning your home with the essence of enchantment.
Size: 60"L x 7"W x 4"D
Each Handmade item has unique differences, which make them more special and memorable.
Return Policy: Within 30 days of receipt
---
30 Days Returns or December 20th (whichever comes first)
Free shipping on orders over $ 50
Handcrafted 5ft Coastal Shell Garland for Captivating Holiday Celebrations and Seaside Enchantment
$84.99
Regular price
$139.99