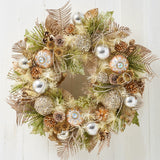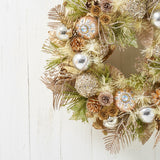 22" Sage Green Gold Wreath w/Mini Wood Rose hi
$87.99
Regular price
$139.99
Sage Green Gold Wreath with Mini Wood Rose - 22 inch - Handcrafted - Combine jeweled ornament, glittery mini wood roses, golden leaves, pinecones, and Faux Foliage to create a stunning Christmas Décor for this loving season.
Size: 22"Dia x 4.5"D
Each Handmade item has unique differences, which make them more special and memorable.
Products are shipped compressed, and shaping of branches is required upon arrival to match the images shown.  Shaping components to maximize realism may result in variance from the dimensions list
Return Policy: Within 30 days of receipt or prior to December 20 (whichever comes first).
Click "Add to Cart" now, and upgrade your Christmas decorating experience this year, and many years to come!
---
30 Days Returns or December 20th (whichever comes first)
Free shipping on orders over $ 50
22" Sage Green Gold Wreath w/Mini Wood Rose hi
$87.99
Regular price
$139.99