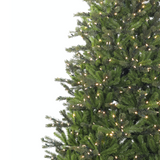 Carolina Pine Color+Clear LED
$439.99
Regular price
$629.00
✅ THE PERFECT CHRISTMAS TREE – Our patented design allows you to connect each branch individually. That way, if any of the preinstalled lights go out, the rest of the tree will stay illuminated
✅ FULL, REALISTIC APPEARANCE –With needles made of PE + Soft PVC plastic and rounded tips, you can have the look of a full tree without worrying about uncomfortable contact with sharp needles, or cleaning them off the floor during your holiday
✅ RAPID & EASY ASSEMBLY – Easy to assemble and dismantle; Easy to shape, No heavy parts, Intuitive design (color-coded)
✅ HIGH-QUALITY MATERIALS - With a sturdy galvanized steel frame and long-lasting needles that are made of 100% virgin material, your tree will be with you for many holidays and look as good as new each year
✅ 5-YEAR MANUFACTURE'S WARRANTY – Yep! You read that right😊 Experience peace of mind knowing that both your tree and lights are covered in our FREE WARRANTY. 
*LED Lights covered for 2 years.
*Structure covered for 5 years.
Carolina Spruce is a full-bodied tree with a mix of both PE and PVC leaves. Its dark and subdued hues are balanced by the two leaf styles, making it a perfect base for ornaments and displays.  
Multicolor and Clear option
A foot pedal switch with 6 different light modes.
 List light functions
1. Clear - Static
2. Multicolor - Static
3. Clear - Twinkle
4. Multicolor - Twinkle
5. Multicolor/Clear - Twinkle
Height: 4.5ft. Composed of 745 branch tips and Width 36 inches and 304 LEDs
Height: 6.5ft. Composed of 1621 branch tips and Width 48 inches and 580 LEDs
Height: 7.5ft. Composed of 2245 branch tips and Width 54 inches and 776 LEDs
Height: 9.0ft. Composed of 3097 branch tips and Width 62 inches and 1028 LEDs.
 This Christmas spruce up your home with this prelit artificial tree! With preinstalled lights, the setup and decoration of your tree will be quick and fun for the whole family! 
Our tree's unique design allows for quick and simple assembly. Each branch connects separately so that if one of the lights goes out, it only affects that branch of your tree. We can service by sending a spare set of lights which can plug in and wrap around the branches themselves.
Return Policy: Within 30 days of receipt or prior to December 20 (whichever comes first).
Click "Add to Cart" now, and upgrade your Christmas decorating experience this year, and many years to come!
---
30 Days Returns or December 20th (whichever comes first)
Free shipping on orders over $ 50
Carolina Pine Color+Clear LED
$439.99
Regular price
$629.00