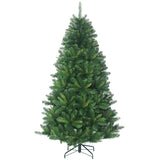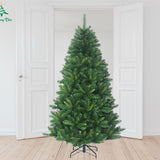 $69.99
Regular price
$99.99
✅ THE PERFECT ARTIFICIAL CHRISTMAS TREE – Hinged Branches.
✅ FULL, CLASSIC APPEARANCE –With needles made of 100% soft PVC plastic and rounded tips, you can have the look of a full tree without worrying about uncomfortable contact with sharp needles, or cleaning them off the floor during your holiday
✅ RAPID & EASY ASSEMBLE – Easy to assemble and dismantle; Easy to shape, No heavy parts.
✅ HIGH-QUALITY MATERIALS - With a sturdy galvanized steel frame and long-lasting needles that are non-flammable made of 100% virgin PVC, your tree will be with you for many holidays and look as good as new each year
✅ 5-YEAR MANUFACTURE'S WARRANTY – Yep! You read that right😊 Experience peace of mind knowing your tree is covered! Hassle FREE warranty! 

A variation of bestselling Douglas Fir, this tree adds leaf type with a different color to give the traditional round-tipped Christmas tree some extra flair. With a symmetrical cone shape and full foliage, it is a great all-rounder tree for the home 
Height: 4 ft.  Composed of 252 branch tips and Width 33 inches.
Height: 5 ft.  Composed of 365 branch tips and Width 37 inches.
Height: 6 ft.  Composed of 518 branch tips and Width 41 inches.
Height: 7 ft.  Composed of 816 branch tips and Width 49 inches.
Height: 7.5 ft. Composed of 1004 branch tips and Width 54 inches.
Height: 8 ft. Composed of 1146 branch tips and Width 56 inches.
Height: 9 ft.  Composed of 1498 branch tips and Width 62 inches.
The setup and decoration of your tree will be fun for your whole family.
Return Policy: Within 30 days of receipt or prior to December 20 (whichever comes first).
Click "Add to Cart" now, and upgrade your Christmas decorating experience this year, and many years to come!
---
30 Days Returns or December 20th (whichever comes first)
Free shipping on orders over $ 50
Austrian Pine, Unlit
$69.99
Regular price
$99.99